Group Therapy Program in Massachusetts
Drug and alcohol addiction treatment can open up a world of possibilities. Some of that work happens in individual treatment sessions where you will work hand-in-hand with a licensed therapist. Other times, working with a group can also help you find success within addiction therapy programs. Group therapy is an opportunity to learn different information in a group of your peers. To learn more about group therapy in our Massachusetts drug rehab and addiction treatment programs, call our team or complete our online form today.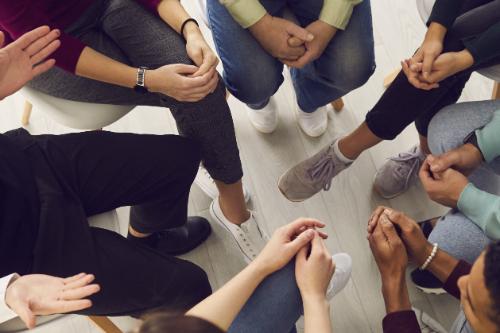 WHAT IS GROUP THERAPY REALLY LIKE?
Group therapy isn't always like what is portrayed on TV or in the movies. Most often, these sessions involve working with a small group of people and a licensed therapist. These sessions are still structured and have valuable information and support to offer. Yet, within this group are people who are facing the same things you are. That allows for more talk, support, and guidance across the board.
GROUP THERAPY IS AN ESSENTIAL PART OF A GOOD REHAB PROGRAM
Some of the most common benefits people find from this type of therapy include:
Having support from people who understand what you're facing can help support a full recovery. 

Developing real-life strategies for dealing with situations outside of addiction may help prevent relapse.

Communicating your experiences to help other people is a rewarding experience.

Sharing information and strategies that work can help everyone benefit from the session.

Learning in groups often ensures questions are answered, and you better understand the material.
When it comes to group therapy, working with other people can be beneficial because it opens the door for healing. When you learn how other people deal with things like discrimination at work, triggers for relapse, and bad relationships, you can apply those strategies to your own life. This is not just learning about addiction but learning how to thrive in recovery with real strategies that work.
GROUP COUNSELING IS ONE PART OF THE PROCESS
Most people find group counseling to be a big asset in their recovery journey. In it is one part of a much larger plan. In group therapy, there's more engagement with your peers. This is important, but it is also essential to work closely with those who can help you through intense trauma, mental health disorders, and personal (often private) matters. That is done in individual therapy sessions.
Some of our group counseling sessions are coupled with these types of other therapy to help you develop a successful outcome.
Mindfulness stress reduction
It is the combination of all of these therapies that can help give you the best ability to overcome your addiction and start on the path towards long-term recovery.
WHAT TO EXPECT IN MASSACHUSETTS ADDICTION SUPPORT GROUPS
Open up. Embrace all that is available to you in group therapy. At Paramount Recovery Centers, our group therapy sessions are designed to be freeing, motivational, and supportive. You'll have ample support from a licensed therapist to help you as well as a structured environment where you can feel safe.
Our PHP and IOP addiction treatment center in Southborough, MA is committed to providing you with a luxury setting and high-level clinicians to support your recovery. By providing you with exceptional access to therapists and innovative therapy programs, it becomes possible for you to start on recovery with confidence. 
Contact Paramount Recovery Centers Today