Alumni Program at Paramount Recovery Centers
The path towards healing from drug and alcohol addiction in Massachusetts takes time and a lot of ongoing work. It can be invigorating to leave addiction treatment knowing you have a new lease on life. Yet, even when you have that confidence, you may have more difficult or challenging times. That's where an alumni program for substance use disorder in Massachusetts can help you. As one of the addiction treatment programs in Massachusetts that we offer at Paramount Recovery Centers, we encourage you to reach out to us today for immediate help either online or by calling 833.772.7287.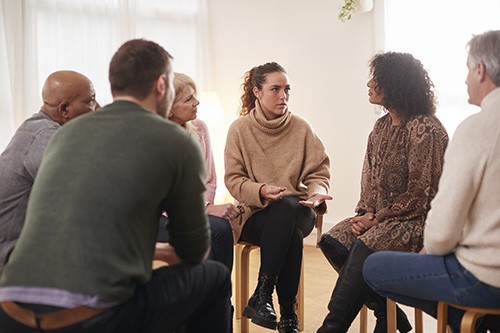 WHAT IS AN ALUMNI PROGRAM?
An alumni program is an opportunity to continue to come back to your therapist and the services available to you even after you've left formal addiction treatment. As an alumnus, you may want and need to stay connected with the people that have helped you heal and work through the challenges addiction brought into your life. An alumni program provides different opportunities for you to do just that.
WHAT HAPPENS IN AN ALUMNI TREATMENT PROGRAM?
The goal of treatment is always to provide a person with the best treatment possible to eliminate the desire to use drugs or alcohol. Yet, anyone with an addiction learns that it can be tough to overcome negative thoughts and high stress some days. With an alumni program, you gain ongoing support for your needs when you need it. You are always welcomed back for the care you need.
Some of the resources available in an alumni treatment program include:
One-on-one therapy sessions when needed

Group meetings for support and reassurance

Dedicated professionals to help you with stress management, triggers, and high-risk situations

Activities and events planned for all alumni members throughout the year

Resources as well as ongoing support from people who understand what you're facing
There is no judgment in an alumni program. Rather, it is the type of place you may want to go when it's time to refresh and refocus.
WHY IS HAVING AN ALUMNI NETWORK SO IMPORTANT?
When choosing a location to secure drug and alcohol addiction treatment in Massachusetts, it's critical to explore the wide range of services. Organizations that offer an alumni network are there for the long haul. They listen and provide resources on an ongoing basis to help you stay on the healing path.
Every person faces stress. Many people face a lot more stress at home, on the job, or with their friendships. Sometimes, you may be facing physical challenges or struggling to get ahead. All of this adds up. If you do not have a strong support system to rely on, including an alumni network, you may struggle to remain sober. Your quality of life may no longer be as good as it should be. Yet, this type of network of supporters can comprehensively change your outcome.
WHAT TO EXPECT FROM OUR ALUMNI TREATMENT PROGRAM IN MASSACHUSETTS
Our team at Paramount Recovery Centers offers the comprehensive level and type of care you need in one place when it comes to finding the treatment you need. That includes providing a range of therapy programs. Learn more about some of the therapies we offer, so you know what makes us different:
Substance abuse treatment in Massachusetts
At Paramount Recovery Centers in Southborough, MA we understand that every person's struggle with substance use disorder is different. Still, our remarkable recovery community helps foster the dialogue, friendship, patience, and trust that individuals need in order to build their foundation for recovery from substance abuse. We believe that addiction recovery should be a beautiful and profound experience. Whether you are overcoming substance use disorder by itself – or alongside another mental health condition, our addiction therapy programs in Massachusetts promote recovery and healing. We customize our Massachusetts drug treatment programs to meet the needs of every person who walks through our door.
VISIT OUR SOUTHBOROUGH, MA DRUG and alcohol addiction treatment CENTER TODAY
When substance abuse in MA takes hold of your life, it's important to recognize that the problem isn't going to solve itself. Seeking professional drug and alcohol addiction treatment in MA for addiction to drugs and alcohol can be life-saving. At our Massachusetts addiction treatment center, you can begin again with an exciting future ahead of you. Learn more about our admissions process today by calling 833.772.7287 or completing our online form.
Contact Paramount Recovery Centers Today