Prescription Drug Addiction Treatment Programs in Massachusetts
It is alarming to realize that a prescribed drug is causing more harm than good in your life. It is even more frightening to realize that you have become dependent on a prescription drug in order to feel normal. In all cases, this type of addiction is dangerous and can lead to long-term dependency and health complications. Substance use disorder treatment programs can help. At Paramount Recovery Centers in Southborough, MA, we offer a prescription drug abuse treatment center designed to support your best recovery from most types of medication misuse.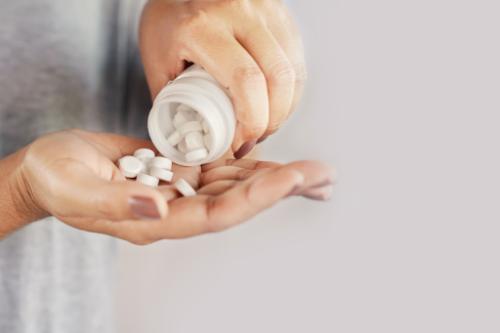 PRESCRIPTION DRUGS CAN LEAD TO ADDICTION AND DEPENDENCE
Prescription drugs are effective and safe to use only when following the requirement set by a doctor. Otherwise, they pose health risks to people using them, including the development of both addiction and dependence. When this occurs, a person compulsively uses the substance and cannot stop doing so without feeling intense pain and cravings for it. At this point, it may be necessary to seek professional treatment to stop using the substance. Some common drugs that may lead to this include:
Opioids including fentanyl, hydrocodone, and morphine 

Benzodiazepines such as Xanax, Ativan, and Librium

Depressant drugs, including barbiturates like Amytal and Seconal

Sleep medications such as Ambien, Lunesta, and Sonata

Stimulants such as Biphetamine, Adderall, and Dexedrine

Methylphenidates such as Ritalin and Concerta
If you are using these drugs in a compulsive manner outside of the written prescriptions, it is time to seek out help from a dedicated team.
THE BENEFITS OF A PRESCRIPTION DRUG ABUSE TREATMENT CENTER IN MASSACHUSETTS
It's not safe for people with a prescription to stop using these drugs on their own. In a prescription drug abuse treatment center in MA, there's ample control and monitoring to ensure the process is safe and doesn't create additional health complications. Most often, this involves the use of medications to help trick the brain into not expressing cravings or withdrawal symptoms. 
In a prescription drug abuse treatment center, you'll be able to safely stop using these drugs. At the same time, our team can work with you to find solutions to the underlying needs you have, such as helping you to overcome anxiety without benzos or aiding in treating sleep problems without the use of addictive drugs. You'll also gain more control over your health and your decision-making. Many with a prescription drug addiction lack that type of control as the drug fuels their decisions and actions.
WHAT TO EXPECT IN PRESCRIPTION DRUG ABUSE TREATMENT CENTER IN MA
Most people can expect a supportive environment where they will learn about addiction and their own mental health. Often, you'll engage in a number of therapies designed to teach you how to cope with your addiction and avoid relapse. You'll also be able to change negative thought patterns to create a better outcome. At Paramount Recovery Centers in Southborough, MA, we offer therapies such as the following to help you heal from addiction:
Mindfulness stress reduction

Cognitive-behavioral therapy

Evidence-based therapy

Motivational interviewing therapy
WHAT MAKES OUR PRESCRIPTION DRUG ABUSE TREATMENT PROGRAM IN MA DIFFERENT?
Paramount Recovery Centers uses the most innovative solutions available with the help of highly skilled clinicians to create results for each person. Our luxury substance use disorder treatment center in Massachusetts offers ample privacy in its secluded location. More so, it is designed to provide access to all of the latest treatment options and innovative solutions to encourage long-lasting recovery. We're here to help you to find your way forward no matter what prescription medications you are using. Our compassion and dedication to you allow us to stand out.

Contact Paramount Recovery Centers Today