Prescription Drug Addiction Treatment Programs in Massachusetts
It is alarming to realize that a prescribed drug is causing more harm than good in your life. It is even more frightening to realize that you have become dependent on a prescription drug in order to feel normal. In all cases, this type of addiction is dangerous and can lead to long-term dependency and health complications. Substance use disorder treatment programs can help. At Paramount Recovery Centers in Southborough, MA, we offer a prescription drug abuse treatment center designed to support your best recovery from most types of medication misuse.
Our prescription drug addiction treatment program in Massachusetts can help you break free from your addiction and finally achieve recovery.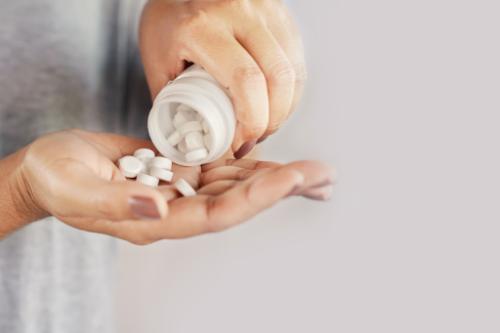 PRESCRIPTION DRUGS CAN LEAD TO ADDICTION AND DEPENDENCE
Prescription drugs are effective and safe to use only when following the requirement set by a doctor. Otherwise, they pose health risks to people using them, including the development of both addiction and dependence. When this occurs, a person compulsively uses the substance and cannot stop doing so without feeling intense pain and cravings for it. At this point, it may be necessary to seek professional treatment to stop using the substance. Some common drugs that may lead to this include:
Opioids including fentanyl, hydrocodone, and morphine
Benzodiazepines such as Xanax, Ativan, and Librium
Depressant drugs, including barbiturates like Amytal and Seconal
Sleep medications such as Ambien, Lunesta, and Sonata
Stimulants such as Biphetamine, Adderall, and Dexedrine
Methylphenidates such as Ritalin and Concerta
If you are using these drugs in a compulsive manner outside of the written prescriptions, it is time to seek out help from a dedicated team.
SIGNS AND SYMPTOMS OF ADDICTION
People who develop a prescription drug addiction have a similar set of symptoms that indicate their drug use has become a problem. Symptoms of prescription drug addiction include:
Increasing tolerance to prescription drugs
Using more prescription drugs than intended or for longer than intended
Unwanted prescription drug cravings
Withdrawal symptoms if you suddenly stop using prescription medications
Multiple failed attempts to stop or cut down prescription drug use on your own
Worsening physical or mental health as a result of your prescription drug use
Continued prescription drug use despite harmful consequences
These are just a few of the symptoms of a prescription drug addiction. Experiencing just one or two may be a sign that your drug use has become a problem.
WHEN TO SEEK TREATMENT
When you identify a prescription drug addiction in your life, the best time to seek treatment is right away. Substance addiction services can help stop prescription drug addiction in its tracks, but early intervention is always the best way to minimize the amount of harm that addiction can do.
That said, many people who abuse prescription medications are hesitant to admit they have a problem. You may find yourself saying things such as:
"These medications are prescribed by a doctor, so it's okay for me to use them"
"I can stop anytime I want to, but I don't want to stop"
"My drug use doesn't hurt anyone other than myself"
"I have too much going on right now to start recovery services"
None of these are good reasons to avoid treatment, and some may not be as true as you believe. For instance, many people who think they could quit using their prescribed medication may actually find it incredibly difficult to do so.
And no matter how much you may believe it to only be harming yourself, addiction can often have severe effects on families, friends, and entire communities.
Stopping substance abuse as soon as possible can prevent several physical and mental health problems, including the development of co-occurring mental health disorders. You don't need to hit rock bottom before starting a rehabilitation program. Successful recovery can begin at any stage of the addiction process.
THE BENEFITS OF A PRESCRIPTION DRUG ABUSE TREATMENT CENTER IN MASSACHUSETTS
It's not safe for people with a prescription to stop using these drugs on their own. In a prescription drug abuse treatment center in MA, there's ample control and monitoring to ensure the process is safe and doesn't create additional health complications. Most often, this involves the use of medications to help trick the brain into not expressing cravings or withdrawal symptoms. 
In a prescription drug abuse treatment center, you'll be able to safely stop using these drugs. At the same time, our team can work with you to find solutions to the underlying needs you have, such as helping you to overcome anxiety without benzos or aiding in treating sleep problems without the use of addictive drugs. You'll also gain more control over your health and your decision-making. Many with a prescription drug addiction lack that type of control as the drug fuels their decisions and actions.
WHAT TO EXPECT IN PRESCRIPTION DRUG ABUSE TREATMENT CENTER IN MA
Most people can expect a supportive environment where they will learn about addiction and their own mental health. Often, you'll engage in a number of therapies designed to teach you how to cope with your addiction and avoid relapse. You'll also be able to change negative thought patterns to create a better outcome. At Paramount Recovery Centers in Southborough, MA, we offer therapies such as the following to help you heal from addiction:
Mindfulness stress reduction
Cognitive-behavioral therapy
Evidence-based therapy
Motivational interviewing therapy
Mindfulness-Based Stress Reduction
Mindfulness practices can help people focus on the present moment and can substantially reduce the symptoms of stress. This can particularly benefit people struggling to overcome a prescription drug addiction who face a host of emotional challenges in early recovery.
Not only can mindfulness reduce stress, but it can also teach people to manage drug cravings. Being able to manage drug cravings is one of the key indicators that you are on the path to long-term recovery, and mindfulness-based stress reduction can help you along the way.
Cognitive-Behavioral Therapy
Cognitive-behavioral therapy (CBT) is a talk therapy approach that has decades of evidence supporting its effectiveness. CBT focuses on helping people change the way they perceive their problems. It has been proven to be effective at treating a wide variety of mental health disorders, including:
Substance use disorders
Depression
Anxiety
Bipolar disorder
At our prescription drug addiction treatment program in Massachusetts, CBT is offered in both one-on-one therapy and group therapy sessions.
Evidence-Based Therapy
Evidence-based therapies are treatments that have proven themselves, through academic and clinical research, to help people overcome addiction. Our prescription drug addiction treatment program in Massachusetts focuses on delivering these therapies, as they have proven their ability to help people overcome prescription drug addiction.
Motivational Interviewing Therapy
Motivational interviewing, also known as motivational enhancement therapy, is a collaborative approach to treating substance use disorders. In a motivational interviewing session, a client speaks with their therapist about their personal values, what they need to build a healthier life in recovery, and their own goals in treatment.
The therapist builds upon these values and helps their clients to create a unique plan to achieve long-term recovery.
LEVELS OF CARE FOR TREATMENT
Paramount Recovery Centers offers outpatient treatment services for people looking for a prescription drug addiction treatment program in Massachusetts. Outpatient treatment offers several advantages over residential treatment, including:
Not having to move far away to get the drug addiction treatment you need
Being able to apply the skills you learn in treatment to your everyday life
Allowing people who have work, school, or family responsibilities to get support services
Our prescription drug addiction treatment program in Massachusetts comes in several levels of outpatient care, including:
Partial Hospitalization Programs
Partial hospitalization programs (PHPs) are the most intensive form of outpatient care available. Clients attend treatment several days a week, for several hours at a time, and receive treatment for both medical and behavioral concerns. At the end of the day, clients return to their own homes and communities.
Intensive Outpatient Programs
Intensive outpatient programs (IOPs) are a step down from PHPs. Clients at these programs don't receive medical services but still attend a treatment program for several days a week.
You can expect to receive several evidence-based treatment options for substance use disorders and mental illness during the treatment day, including individual therapy, group therapy, medication-assisted treatment, and much more.
Outpatient Programs
The outpatient program at Paramount Recovery Centers is our least time-intensive addiction treatment plan. This can be used either as a first-line treatment for people with milder substance use problems or as a step down from a PHP or IOP.
Clients at an outpatient program only attend treatment a few days a week, for a few hours at a time. This allows our team to provide long-lasting support without greatly interfering with your day-to-day life.
WHAT MAKES OUR PRESCRIPTION DRUG ABUSE TREATMENT PROGRAM IN MA DIFFERENT?
Paramount Recovery Centers uses the most innovative solutions available with the help of highly skilled clinicians to create results for each person. Our luxury substance use disorder treatment center in Massachusetts offers ample privacy in its secluded location. More so, it is designed to provide access to all of the latest treatment options and innovative solutions to encourage long-lasting recovery. We're here to help you to find your way forward no matter what prescription medications you are using. Our compassion and dedication to you allow us to stand out.
START TREATMENT TODAY
We know how difficult overcoming addiction can seem, but our experience has shown that anyone can recover, provided they get the quality addiction treatment that they need to build a stronger and healthier life in sobriety.
When your drug use has become a problem, reach out to the team at Paramount Recovery Centers by calling (978) 878-3677 or by filling out our confidential online contact form.
Contact Paramount Recovery Centers Today