Substance Use Treatment Programs in Massachusetts
At Paramount Recovery Centers, our substance use disorder treatment programs are rooted in 12-step, cognitive-behavioral, and different therapy modalities. If you or a person you care about is in turmoil due to chemical dependency, our Southborough, MA substance abuse recovery and aftercare programs can help. Contact us today by completing our online form or calling 833.772.7287.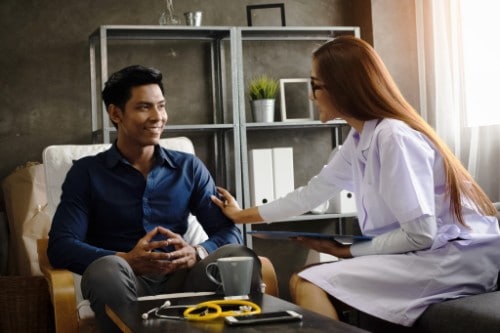 GROUP COUNSELING AND 12-STEP WORK
Group counseling is essential in any good substance use disorder therapeutic curriculum. At Paramount Recovery Centers in Southborough, MA, we see incredible growth during group therapy. This is a setting in which you can learn from other people who have experienced similar situations in order to build connections and open up about your personal struggles with addiction and mental health. In many cases, people build friendships that can last a lifetime through group therapy. Join us in the following drug and alcohol treatment programs in Massachusetts:
At Paramount Recovery Centers, we rely on the 12 steps to inform each of our therapy programs. Rather than take a flavor-of-the-month therapy approach, we prefer the approach with the best track record. Working through the 12 steps surrounded by a supportive group of individuals is a powerful experience. Together with peers, guests at Paramount Recovery Centers in Southborough, MA explore problems and determine solutions. You can learn from each other instead of going through certain experiences yourself.
FOCUSED, SPECIALIZED ADDICTION TREATMENT
When the underlying reasons for the addiction are revealed, treatment can be focused and specialized. Having all the information and puzzle pieces helps with overall addiction recovery from both the guest's and therapist's perspectives. It gives the professional the tools they need and knowledge of the areas to focus on. This type of substance abuse treatment also has a better chance of reducing negative symptoms and behaviors and keeping them from showing up again.
ADDICTION & MENTAL HEALTH COUNSELING
Mental health counseling is an important part of treating people with substance use disorder. Our counselors at Paramount Recovery Centers offer the skills people need to identify their destructive thoughts and behaviors. We teach clients to use mindfulness to make thoughtful choices instead of impulsive ones. As people learn valuable tools to help them maintain healthy, appropriate boundaries, their self-esteem, relationships, and ability to function improve.
HOLISTIC THERAPIES
Holistic therapies are offered to complement the evidence-based techniques. Holistic therapies are offered at Paramount Recovery Centers to help people reduce their stress, learn about mindfulness, improve overall well-being, and manage physical discomforts that accompany recovery from mental health disorders. These therapies often include acupuncture, exercise groups, yoga, meditation, art therapy, and nutrition therapy.
CONTACT PARAMOUNT RECOVERY TODAY
Healing from addiction takes time and effort, but the results are worth it. If you are not living the life you want to live due to chemical dependency, consider entering our intensive outpatient or partial hospitalization program in Southborough, MA. 
Reach out today to get more information about the many benefits of participating in our addiction therapy programs at Paramount Recovery.
Contact us by calling 833.772.7287 or completing our online form to begin therapy sessions and any of the following programs:
Substance use disorder treatment
VISIT OUR SOUTHBOROUGH, MA DRUG and alcohol addiction treatment CENTER TODAY
When substance abuse in MA takes hold of your life, it's important to recognize that the problem isn't going to solve itself. Seeking professional substance use disorder treatment in MA for addiction to drugs and alcohol can be life-saving. At our Massachusetts substance use disorder treatment center, you can begin again with an exciting future ahead of you. Learn more about our admissions process today by calling 833.772.7287 or completing our online form.

Contact Paramount Recovery Centers Today