What to Look For in a Men's Rehab Program for Addiction
When seeking a men's rehab program, it's essential to consider the facility's approach to individualized treatment, the expertise of the staff, and the inclusion of programs tailored to address the unique challenges faced by men in recovery.
A sad truth about drug abuse is that men tend to be affected more often than women.
This could be because, in our society, men are often encouraged to be reckless; it's generally more "okay" societally for a man to not take care of himself.
However, men do need to take care of themselves — and they often need treatment that's different from women. But how do you find a great men's rehab program?
There are in fact many great men's drug rehab facilities out there, capable of alcohol treatment for men, as well as treatment of other types of addictions.
This article will walk you through all you need to consider when choosing a men's rehab facility and help you find a great men's rehab in Massachusetts.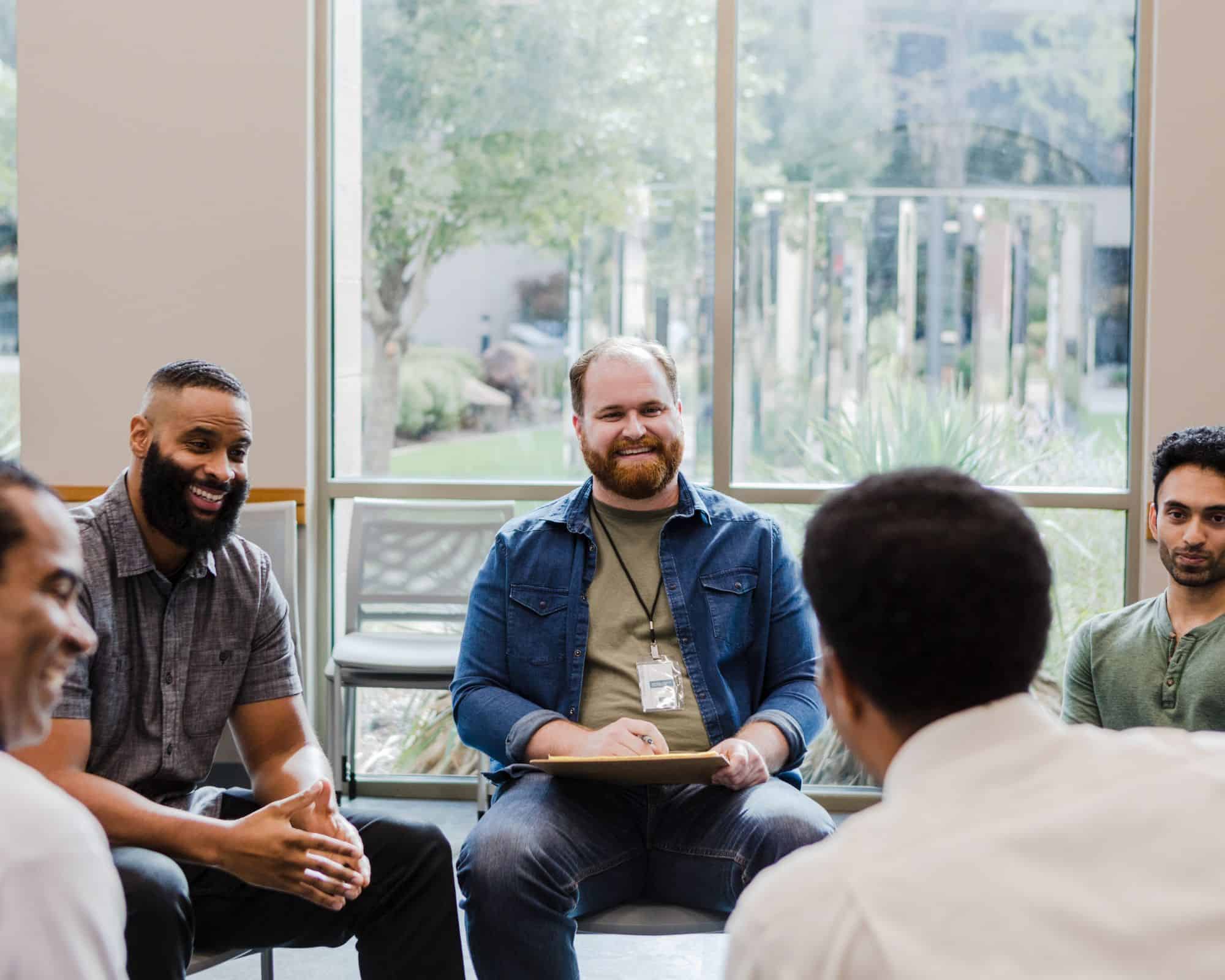 Consider the Underlying Conditions for Men Suffering from Substance Use Disorder
Men looking for a men's rehab program should consider whether or not they have other underlying mental health conditions. A dual diagnosis could be extremely important in guiding your recovery from addiction and substance abuse in the right direction.
This is particularly important to men because they're often not encouraged to talk about or share their feelings. Admittedly, this can have certain benefits. However, it also makes men less likely to understand their own mental health struggles.
Make sure you look for a men's rehab program that treats whichever underlying mental health condition that you suffer from. If you're not sure if you suffer from one, make sure that you find a men's rehab program that is willing to take the time to diagnose you.
This means that you'll have to look for a men's rehab facility that employs licensed therapists, psychologists, and even psychiatrists. The last thing you want is a rehab program that will underperform on your personal diagnosis.
Consider the Type of Addiction Treatment Program You Need
Different people need different sorts of addiction treatment. You don't want an addiction treatment program that's more intense than you need — but you also don't want to undershoot. Weigh just how bad your battle with addiction to drugs and alcohol has gotten, then decide whether you want an inpatient program, a PHP program or IOP program, an outpatient program, or even telehealth.
Men's Inpatient Programs for Substance Use Disorder
Generally speaking, men's inpatient programs for substance use disorder are for people who are a danger to themselves and others. They don't just feel as though they have no control over their life, they actively have a tough time controlling their actions.
These people will likely need a medical detox. This can be easier or harder depending on the condition, the severity of use, and the type of substance used.
Those suffering from opioid addiction will feel sick and anxious, which might cause them to slip up and use drugs again if they're not constantly being watched. Those suffering from severe alcoholism might be afflicted by delirium tremens, a potentially life-threatening condition.
Even after this beginning period, those suffering from an addiction to drugs and alcohol of this level might have a tough time controlling their actions, which is why they stay in an inpatient program.
Men's Partial Hospitalization Program for Substance Use Disorder
At a men's partial hospitalization program for substance use disorder, the individual will find a less intensive program than one that requires 24-hour contact. A men's PHP program allows the individual to go home or back to a sober house in the area at night after they attend individual counseling and group counseling sessions.
Men's Intensive Outpatient Program for Substance Use Disorder
If you're not quite sure which of the above options is best for you, you might want to go with a men's intensive outpatient program. In a men's intensive outpatient program, you can expect to devote most of your time to solving your addiction to substances like drugs and alcohol, while not being "hospitalized." It's great for people who don't feel as though they can uphold their job or school responsibilities, but still, have a good support group at home.
At the end of the day, all three of these options are great for those looking to improve their condition.
Men's Outpatient Program for Substance Use Disorder
Those suffering from addiction who feel as though they have enough of a support system at home that they're not in danger of relapsing provided they get treatment should get an outpatient program.
Men's outpatient programs are still quite significant programs — expect a men's rehab program for outpatients to meet at least 20 hours a week. Men's outpatient programs allow you to keep up your familial and job responsibilities, while also focusing a significant portion of your time on getting better.
While they're not as intense as men's inpatient programs, they're still a great option for anyone who feels as though their life has spun out of control.
Request a 100% Confidential Callback
If you or a loved one are struggling with substance abuse and mental health problems, contact our drug and alcohol rehab center in the Greater Boston area to talk confidentially with an addiction specialist. For immediate help, call (978) 878-3677 or fill out the form below, and we will get back to you as soon as possible.
Consider the Location
For certain folks, it's best to stay local when choosing a men's rehab program. For others, the best option is to travel. How do you know what's right for you? Are you staying at a sober living home in the area as well?
Traveling to a Men's Rehab Program
Traveling out to Massachusetts for a men's rehab program is a great option for many people. Many people have a difficult time breaking the cycle of addiction because they have a group of friends that also engages in drug abuse. This can make it hard to enact any sort of positive change.
Getting away from it all is just the step a lot of people need to solve their addiction issue. Heading to a new state can also help make the rehab experience feel more like a new chapter of your life is beginning — new people — new location — etc.
Staying Local
Staying near your hometown is the right option for many people. If your family situation is good, and you have a good support system built up at home, then staying around a place you're familiar with is a great way to enhance your rehab program.
On top of this, it might feel extra-stressful for a person who doesn't enjoy travel to go out of state for a rehab program.
Get Answers to Your Questions Now
Are you looking for information on addiction treatment options, or just need someone to talk to? We are here to help.
Find the Right Men's Rehab Program For You
As you can see, finding the right men's rehab program is about looking for what will suit your particular needs as a man. Find a place that will treat your particular mental illness; that fits your inpatient/outpatient needs; that's either local or a trip, depending on your preference.
Do this, and you'll give yourself a great shot at overcoming your addiction problems.
For more information on men's rehab programs, as well as other rehab program options, contact us today.

Ready to Get Help?
We have helped countless individuals empower themselves to recover and get the substances use and mental health treatment they need. You're not alone in this, we are here to help.
(978) 878-3677