Vivitrol Treatment Programs in Massachusetts
Finding a way to stop using drugs and alcohol can be a challenge. When a person has used drugs like opioids for a long time, their body and brain are used. If they try to stop using them, they feel intense pain and cravings. There are other ways around this. Vivitrol treatment may be one option. For some people, this is a key component of our medication-assisted treatment program at Paramount Recovery Centers in Southborough, MA. It may be what you need to stay healthy.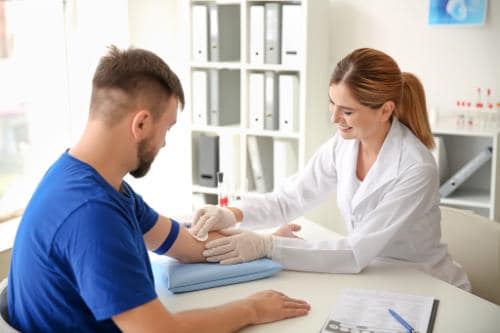 WHAT IS VIVITROL TREATMENT?
Vivitrol is a brand name for naltrexone, a medication used to help people abstain from using drugs and alcohol for the long term. A person will need to first work through the detoxing process and utilize therapy to get to the point of being medically stable. Then, the use of naltrexone helps to keep them from wanting to use it again. It can help a person recovering from opioid and alcohol dependence not to feel the need to use these substances again. This happens by reducing the cravings that can be present after stopping drugs and alcohol. 
WHY IS A VIVITROL TREATMENT PROGRAM IN MA SO IMPORTANT?
Not everyone needs to use Vivitrol or naltrexone as a component of therapy. Yet, evidence shows that using medications like Vivitrol can help a person regain their health and stay on the path towards long-term sobriety. There is a range of benefits to using this medication, including:
Minimizing the symptoms of withdrawal and cravings, making the drugs or alcohol no longer a necessity to get through the day

Helping a person to remain stable to work or go to school

Supporting a person so he or she can continue with therapy

Providing for a better quality of life

Enabling treatment for underlying mental health conditions more fully
The key goal of this type of medication-assisted treatment is to give you the tools you need to stick with addiction therapy. It does not take the place of psychotherapy. It is also not a cure for addiction. However, it can help you to remain focused on addiction recovery long term.
WHAT SHOULD YOU EXPECT FROM A VIVITROL TREATMENT PROGRAM IN MASSACHUSETTS?
If you are using drugs like opioids or alcohol, you may benefit from medication-assisted therapy like this. A person often needs to go through the clinical detoxing process from those drugs before he or she can begin using Vivitrol. This allows the body to remove those substances completely and allows for the healing process to begin. This takes time, but with Vivitrol available to help support you, it may be possible to stop using these drugs for good.
Along with using medications like this, you'll work with therapists who can help you overcome the damage addiction causes. This includes damage to relationships and health. You'll also learn how to manage triggers and stress, creating new opportunities for yourself. Life is full of challenges after addiction therapy. When you have access to medications like this, you can work through those challenges positively, reducing the risks you face and increasing your odds of remaining sober long term.
Our substance abuse therapists will work with you to create a medication-assisted therapy plan that's best suited for your unique needs. Then, you'll learn the ins and outs of building a strong, healthy future for yourself. Our addiction recovery team is here, ready to help you every step of the way to overcome your substance use disorder.
Substance abuse treatment in Massachusetts
At Paramount Recovery Centers in Southborough, MA we understand that every person's struggle with substance use disorder is different. Still, our remarkable addiction recovery community helps foster the dialogue, friendship, patience, and trust that individuals need in order to build their foundation for recovery from substance abuse. We believe that addiction recovery should be a beautiful and profound experience. Whether you are overcoming substance use disorder by itself – or alongside another mental health condition, our substance abuse therapy programs in Massachusetts promote recovery and healing. We customize our Massachusetts drug and alcohol treatment programs to meet the needs of every person who walks through our door.
VISIT OUR SOUTHBOROUGH, MA DRUG and alcohol addiction treatment CENTER TODAY
When substance abuse in MA takes hold of your life, it's important to recognize that the problem isn't going to solve itself. Seeking professional substance use disorder treatment in MA for addiction to drugs and alcohol can be life-saving. At our Massachusetts substance use disorder treatment center, you can begin again with an exciting future ahead of you. Learn more about our admissions process today by calling 833.772.7287 or completing our online form.
Contact Paramount Recovery Centers Today